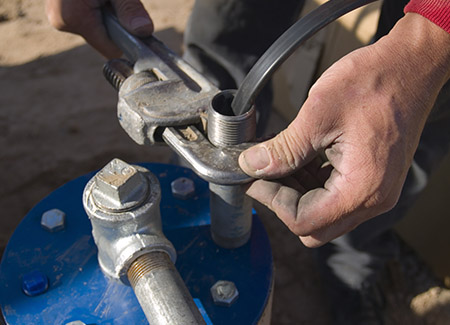 As your trusted provider of well pump service in Clovis, NM, DZ Pump Service offers water well installation, service and repair. We have a large inventory of parts including top of the line pumps, pipes and tanks. Need a part that we don't carry? No problem. We'll take care of it so you don't have to. We also offer solar pumps and solar panels, water testing services and inspections. There's nothing we can't do for your well!
Well Repairs
No matter what type of repair your well may need, we offer a wide variety of water well repair options in Clovis, NM. Whether your experiencing a water pressure issue, a leaky pump or a broken pipe, we'll repair the piece to its original condition to restore your potable water flow.
Water Pump Replacements
Sometimes a repair isn't possible, forcing you to replace the broken part or piece. Don't panic and contact us! We specialize in water pump replacement in Clovis, NM. We'll take care of all your replacement needs with our large inventory of pumps, pipes and tanks.
Solar Pumps and Solar Panels
We offer solar water pumping systems and solar panels for many different uses, including livestock or wildlife watering, crop irrigation or off-grid homes as an independent energy and green energy solution. Save the environment one solar pump or panel at a time.
Water Testing Services and Inspections
Worried your well isn't performing up to your expectations? We offer water testing services, inspections and test checks for nitrates, bacteria and arsenic, to ensure your water is clean and safe to use. We'll clean your water pump and well systems through brushing and chemical cleaning techniques. Don't live with a mediocre water well—contact us instead.

Emergency Service
In an emergency, we're here to help. No matter what time of the day it is, contact our emergency service line at 575-799-1508. We'll perform repairs and replacements in a flash, so the issue at hand doesn't persist. Whether you need a water pump replacement or would like us to perform a water test check, DZ Pump Service is here to help.